The Man:
News
Interviews
Purchase Films
Film Reviews
Biography
The Site:
Message Board
Links
Contact Us
Back:
HOME
Bi-Weekly Darren Buzz (January 12)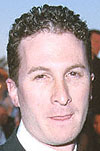 January 12, 2000: The staff here at Darren Aronofsky Online have decided to have an article on Darren Aronofsky about the brief news that has been going around for the those two weeks, and is not deemed "big" enough to be printed as a story on its own. (This will be posted up every other Friday.) Now, without further ado we present to you this Darren Buzz:

First we would like to announce that Harry Knowles, webmaster at one of the biggest and possibly the most popular movie news/rumor website on the net Aint It Cool News (aintitcool.com) posted the best and worst films of year 2000. Guess which one was first. Well, it's none other than Darren Aronofsky's Requiem For A Dream! (It's not an Oscar but Harry Knowles was named one of the 50 most powerful people in the media--so he may have some Academy influence.)

In another Aronofsky related tidbit: Entertainment Weekly featured an article about director Kevin Smith, (Dogma, Clerks) where Smith (being a comic book fan) commented on the progress of Batman: Year One. Smith told EW, "It feels as if someone has finally listened to comic book fans and said, 'We'll try it your way.'...Because the last two [Batman films] they certainly did their way."

PURCHASE BATMAN: YEAR ONE (The Comic)