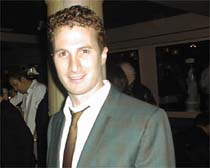 After completing only two feature films, Darren Aronofsky is one of the most acclaimed independent film directors in the United States. The following is a frequently updated bio of the director:
Darren Aronofsky was born February 12, 1969 in Brooklyn, New York. Growing up Darren was always artistic; he loved classic movies and as a teenager he even spent time doing graffiti art. After High School, Darren went to Harvard University to study film (both live action and animation). He won several film awards after completing his senior thesis film, Supermarket Sweep (starring Sean Gullette), which went on to becoming a National Student Academy Award Finalist. After graduating from Harvard, Darren attended the American Film Institute where his 1993 thesis film Protozoa gave birth to many of the visual techniques employed in his feature motion pictures. Aronofsky first began work on a feature film in [February] 1996, where he began creating the concept for Pi, a psychological scifi thriller. After the Pi script received great reactions from friends, he began production. (The film re-teamed Aronofsky with Gullette, who played the lead.)
When starting Pi, Aronofsky and crew realized they didn't have enough money to complete the film. Associate Producer, Scott Franklin, came up with the idea to ask every person they knew for $100 to help complete the film. (Later in production certain individuals put in more cash, which let Aronofsky complete the film.) After Pi was completed (with a budget somewhere around $60,000), Darren Aronofsky received praise from critics and film-buffs alike, and landed his film an award at the Sundance Film Festival. In 1998 the film was picked up by Artisan and released in selected cities.
One of Darren's favorite books of all time was Hubert Selby's Last Exit to Brooklyn. While editing Pi, producer Eric Watson convinced Aronofsky to read another Selby book, Requiem For A Dream. (Darren had actually started the book years before but stopped reading.) Darren was heavily impacted and wanted to film an adaption of the novel. While Darren thought about Requiem, he also became involved in two other projects:
Even while Pi was still in theaters, news sprung up that Aronofsky was contemplating adapting a Frank Miller comic called Ronin as his next movie. (Darren had been a big fan of the comic book along with other Miller comics, such as Batman: Year One and Batman: The Dark Knight Returns--in fact the visual style for Pi had actually been influenced by a black and white comic titled, Sin City, which was written and drawn by Frank Miller.
Around the same time the Ronin news broke, news sprang up that Darren Aronofsky was involved in another film as well: Proteus (Now titled Below). Dimension Films had signed Darren to write the sci-fi thriller set on a Submarine during WWII, and Aronofsky seemed all set to direct. In an interview, Aronofsky stated that horror movies at gone too far over the edge with gore, and vowed to give the film a very psychological feel.
Darren decided he would do Requiem For A Dream first and quickly began working on the Requiem script. (Hubert Selby Jr. co-wrote the script along with Aronofsky.) By the time Requiem debuted in year 2000, Aronofsky was a favorite among indie-film lovers.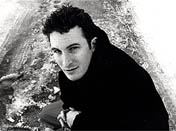 After Requiem was completed, problems protruded from both Ronin and Proteus: He put Ronin on hold, although according to a recent interview the project may not be dead forever, and director David Twohy signed on to develop Proteus which began filming in May of 2001 and was released with the name Below in 2002. (Darren stayed on as an executive producer for the project.)
Since Requiem For A Dream's debut, Darren has received major media attention as well as swept away some big Hollywood execs. However, not everything went through as immediatly or painlessly as planned: Aronofsky signed on with Warner Bros. to restart the live action Batman movie franchise with Batman: Year One and direct a big-budget scifi project titled The Fountain. However, after Aronofsky turned in his Year One screenplay, WB opted to go with a different direction for a Batman film with Chris Nolan's Batman Begins. Pre-production troubles on The Fountain stalled the film several times for over two years. However, The Fountain is finally now filming in Montreal with Hugh Jackman and Rachel Weisz in the lead roles. The picture is now looking to a possible 2005 release.

Navigation: