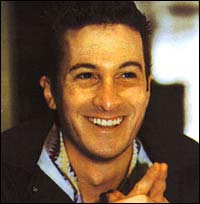 January 26, 2000: The first tidbit is the disappointing news that Ellen Burstyn didn't win the Golden Globe award for her excellent performance in Requiem. Ellen is already an Oscar winner so we're sure she isn't too disappointed! (Julia Roberts won the Globe as she also had a great performance and our biggest "congrats" go out to her.)
And next at bat (no pun intended): We have some brief Batman: Year One news! The legendary Oliver Stone recently spoke to Premiere Magazine about what Darren Aronofsky needs to do to make Batman: Y1 as good as Darren's past films. Here's what Stone said, according to Eon Magazine:
"Unfortunately, the very first obstacle is that the expectation level on Darren is very high, where he has come from nowhere and made two powerful films one after another [Pi, Requiem For A Dream]. How does he maintain that intensity and purity in a form that is very commercial? It can be done. The script has to be as intense and pure as your other two were, but perhaps incorporating more characters into that world and seeing that world with integrity. If you maintain that integrity in the script and you fight for it, they'll let you do it. I believe that. But if they really don't like the script, they'll move on and you'll lose that turn, but it won't stop your career. But it's a big number that you bit off. I mean, in the old days we worked our way up more. Now young first-timers are given $100 million movies. My largest budget has been $62 million on Any Given Sunday, which was a lot. But stand your ground, and I think you'll win."
After the above advice, Aronofsky simply replied, "The master."

PURCHASE BATMAN: YEAR ONE (The Comic)