New Fountain Pic, Plus Requiem Parody
Topic: The Fountain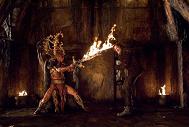 I actually meant to post this earlier in the day, but here it is just a few hours late:
Latino Review
gives us a glimpse of an all new and especially cool looking picture from
The Fountain
. Click the image on the right for a closer view. Now tell me, does this pic help hold you over until the film's release or does it just make you even more anxious?
Also, a couple of people have alerted us (thanks guys!) about a pretty funny and well made
Requiem For A Dream
parody online. If you have a couple of minutes, be sure to check out
Toy Story 2: Requiem
.